CPD - Continuous Professional Development
Track your coaching and training sessions with My CPD

Written by

Delenta
Last update 1 year ago
My Continuous Professional Development (CPD), is a simple and effective way for you to manage all your coaching hours and training hours.
My CPD is used to record the details of any formal coaching sessions undertaken on Delenta or outside Delenta along with any training sessions you have completed.
Click on your profile icon on the top right of your Dashboard and select Coaching Logs.
One to one and group coaching sessions scheduled on Delenta will automatically be recorded and appear in the Coaching Hours Summary. There is also the option to manually add any coaching sessions you may have had prior to registering with Delenta, or that took place outside of Delenta, so you can have a track of all your records in one place. This area also gives a clear overview of your total paid and pro-bono hours.
Records are not limited to clients you have on Delenta but you log sessions with clients that are not on Delenta. You can add notes to these records, this includes records automatically added by Delenta and any records that you have added manually.
To add a coaching session
Click Add Session
Click Add Coaching Hours
Fill in the information of your session
You can create a record for coaching sessions with clients from your Delenta prospects and clients or create a record for a new client
You can also easily bulk upload and download your session records.
To upload, select the Import button and upload your file.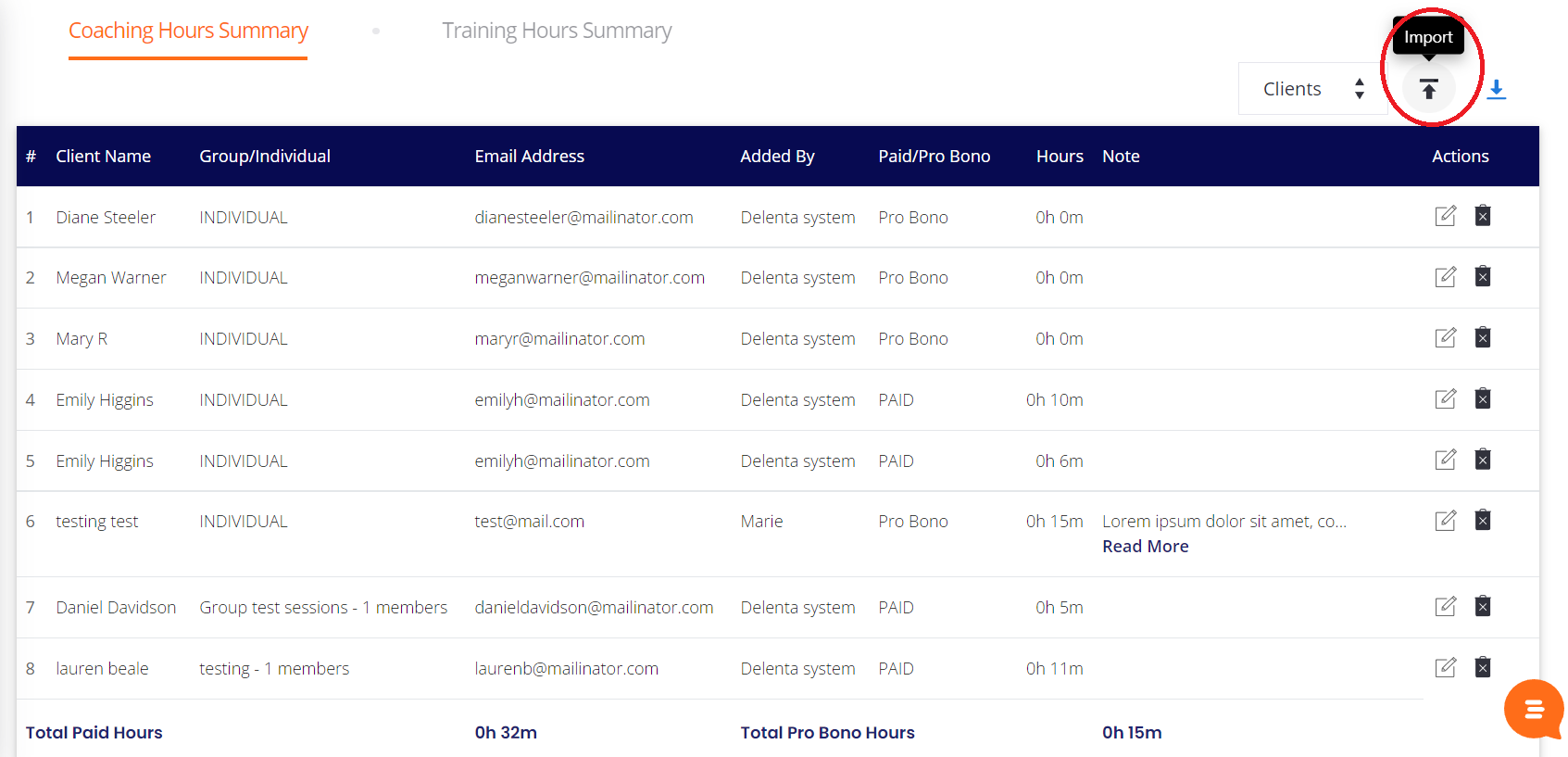 Your file must be in a CSV format to be uploaded. We recommend you download a blank CSV template provided, update with your own data (a sample data record has been provided in the sample file)
Note: please make sure you delete the sample record before uploading.
To download your log, click the download button.
My CPD can also be used to record any training events or activity. This can be done simply by clicking Add Session then Add Training Hours and fill in the information.
Did this answer your question?